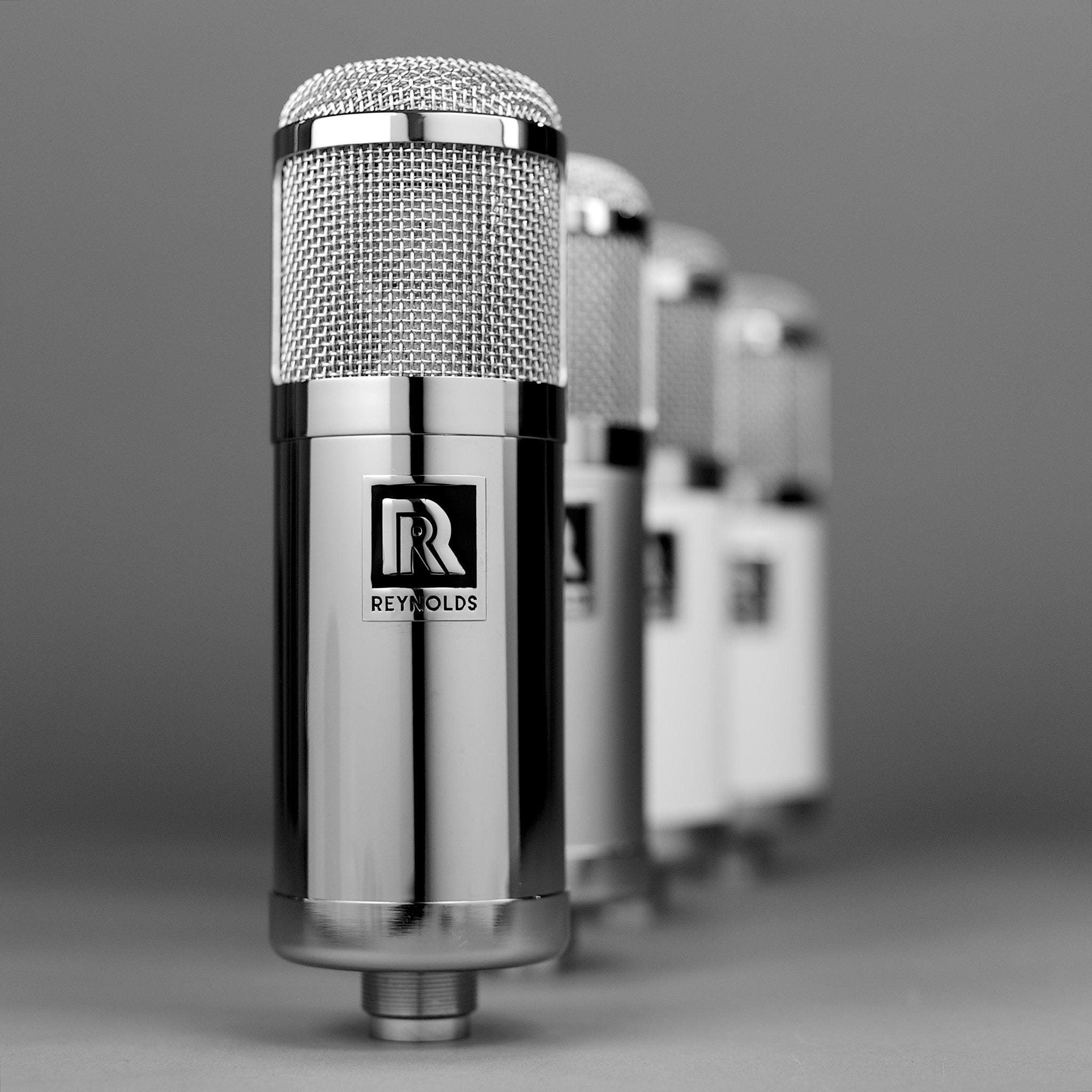 Reynolds Microphones
Jack Reynolds i London er en seriøs mand, der er i stand til at designe rørmikrofoner der lyder som de skal!
Altså som de gamle klassikere vi holder af, men ikke har råd til!

Det gode er at Jack's mikrofoner koster en brøkdel af hvad man skulle tro!

Ligesom Rostec, sælger Jack sine mikrofoner direkte uden extra salgsled.

Jeg hjælper ham med det her i Danmark!
Der er 3 Reynolds modeller :
R type 1 og 2 + topmodellen RM1V.
Alle super vellydende!
Ring eller skriv om pris og demo!


The R-Type 1 is a classic multipattern valve amplified large diaphragm condenser microphone. Featuring a single triode subminiature valve in a plate follower configuration, the R-Type combines many design features of the classic vintage European microphone designs of the 1950s and 60s.

The microphone ships in an aluminium flightcase with a high quality shockmount, 5m 7pin gold plated microphone cable, and a vintage-style power supply with a 9 position selector switch to set the microphone's pickup pattern to fig8 through cardioiid to omnidirectional.
Reynolds R-Type 2
The R-Type 2 features a classic AKG CK12 type, edge-terminated capsule. Coupled with a classic single triode plate follower circuit, the R-Type 2 bears many similarities to the classic AKG C12 and ELAM251. The microphone ships in an aluminium flightcase and includes a high quality shockmount, a 5metre 7pin gold-plated microphone cable, which connects the microphone with the included vintage-style power supply.
The power supply features a nice position selector switch to control the directivity of the mic from fig8 through cardioid to omnidirectional.


Reynolds RM1V
Mhe RM1V is the Reynolds flagship product. Each microphone is lovingly built by hand in East London using a Thiersch STW7 single back-plate M7 type capsule built to the original Neumann specifications by Siegfried Theirsch in Germany. The amplifier circuit is a classic filament-bias anode-follower circuit using the highest quality components - a Telefunken EF80 pentode valve wired in a triode configuration, an AMI T47 output transformer, WIMA capacitors, metal film resistors, silver plated teflon insulated wire. The power supply uses a classic linear unregulated design featuring a custom made totoridal transformer, multi-stage choke filtering, and built-in volt-meters to set the heater and filament voltages correctly for the lowest noise and longest valve life.
The microphone ships with a 5m Gotham GAC-7, 7pin cable with Neutrik XX connectors and a high-quality shockmount in an aluminium flightcase.
The RM1V has an incredibly smooth detailed sound with all the round bottom end you could ever want, coupled with a very low noise floor, high sensitivity and the bare minimum of components in the signal path. The power supply directly feeds the valve bias providing instantaneous power to amplify transients with ease.